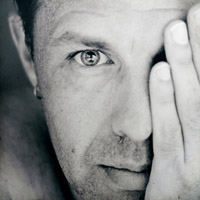 about me

I'm Victor Bezrukov – Israel based Unplugged Freelance Photographer, IT specialist and Information Security consultant.
I was involved into photography by my son in 2005 and passed not conventional way from digital to Analog photography.
Today i use both formats and even started to develop BW film at home. My interests in photography possible describe as "under construction" – i'm still searching what i love to photograph – Black and White, Street, Miksang, Portraits, Landscapes and to experiments with different gear. I love to bring some dramatic look to my works. Contrasts, geometry, sometimes emptiness, craziness, happiness and melancholy are my best friends in this mission. seems like "Life Photography" is the best description for what i do.
"Follow the light !!!" is the best advice that i can give to one who ask me for.
Prints of all images found on this site are available. Contact me for the price and more details (size, paper type and finishing).